Shoot House type stages can be a lot of fun to run as staff, or they can be a nightmare. Traditionally, they are designed with generally anterograde movement combined with a fair bit of lateral movement. Sometimes they are totally enclosed leading to subdued light situations, sometimes they are just a whole lot of walls without a roof. Either way, they are a staple of our sport. Now and then you run into one that has at least a portion requiring retrograde movement due to movement down a passage to engage targets, and then having to reverse course to move to the next targets. There are, of course, several interesting variations on this.
The key to making any shoot house type stage successful is a solid stage design, careful attention to detail during setup and having it run by an experienced RO crew. This is generally not a good place for newly minted ROs to cut their teeth. Preferably, you will want a CRO that has experience running this type of stage, although that isn't always an option.
Take the stage shown below. The shooter will need to work their way into the house through the doorway, moving laterally back and forth then forward and down one of the three "hallways" only to need to reverse course and move retrograde to get to the next hallway.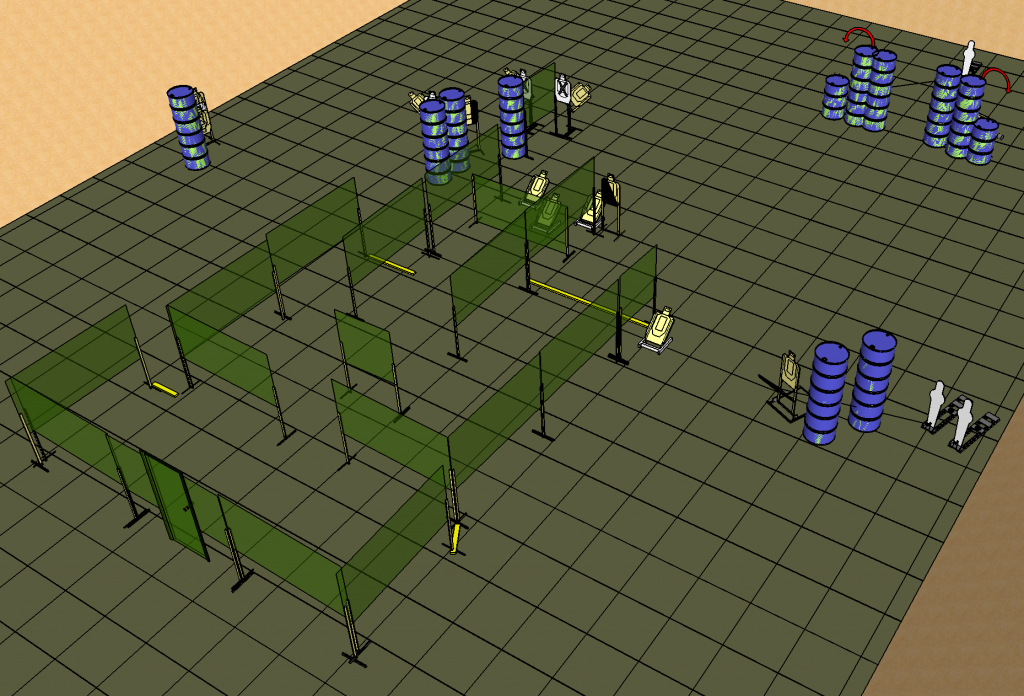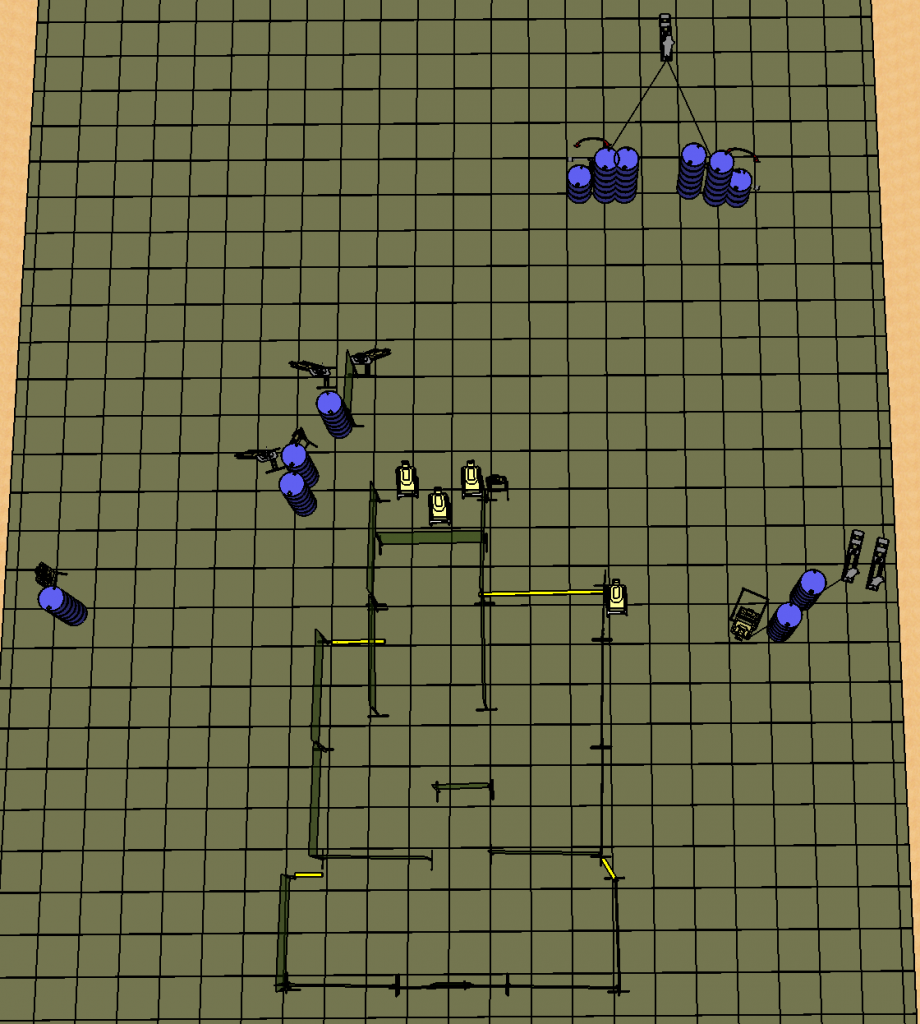 Because freestyle allows the shooter to go left or right first after they enter the door, the RO team needs to hang back and watch for them to commit to a direction before fully entering the house. Of course keep in mind that shooters have been known to decide to go the other way once they appear to have committed to one direction so don't crowd them! While we should try position ourselves, and thus the timer, to get every shot, and be watching the timer display out of the corner of our eye to see it increment with the shots, the most important shot to get is that last shot. With most handguns and a properly set up timer this won't be a problem provided you are reasonably close to the shooter. With PCC, being as "quiet" as many are, this can be more of a problem, especially if that last shot is through a port or around a wall/corner which blocks much of the muzzle report from the timer. In these cases, which a prepared RO has already foreseen, we need to be even more careful to position ourselves to get that final shot so we have an accurate time for the score.
After they have engaged targets to the left and the right of the first "room" they move forward again and get to pick between one of three "hallways" to move down to engage targets. Again, the RO crew needs to hold back and observe the shooter; they don't need to be right on top of them.
Once the shooter has begun moving into what will be their final shooting position the ROs can move forward to capture that last shot. Again, only the timer RO needs to be up with the shooter. The assistant RO only needs to be where they can observe.
It is also very important for the whole RO crew to be observant and mindful if the shooter misses a shooting location and/or one or more targets as they may realize this at some point and decide to retreat to pick up those targets. The savvy RO will be aware this is a possibility and will be ready for the shooter to reverse course so they can stay out of their way. The RO team must never assist the shooter by mentioning the missed targets during their run and any communication between the ROs must be of a non-verbal type. Usually both ROs will realize what is likely and a knowing nod can ensure that they are both on the same page. Most humans are remarkably adept at non-verbal communication. If you have been an RO for very long you have likely experienced this sort of thing.
Let me emphasize again, as an RO, it is important to realize you do not need to follow the shooter all the way down each hallway. You can observe their firearm, feet, target engagement, etc. just fine from the entrance of the hallway or part way down if it is lengthy. As they then reverse course to move to the next location, you need only take a step or two backward to get out of their way and shift over to follow them down the next hallway. Sometimes while the hallway goes some distance down range, the shooter may not always need to go all the way down to engage all the targets. Often, stage designers will intentionally do this to entice the shooter to waste movement. Sometimes the target that seems to require going all the way down is available from elsewhere on the stage. The shooter that is good at developing a solid stage plan, and sticking to it, will realize this and only go as deep as necessary to get the required targets.
It is also very important as an RO in any course of fire to not get lulled into a routine. Just because the last fifty shooters went through the door and went left so they could reload moving left to right doesn't mean that fifty-first shooter will do the same thing. Left-handed shooters will likely go right and move left for the same reason right-handed shooters go left and move right. If you aren't paying attention you are going to lose track of the shooter and, potentially, end up interfering with them causing a reshoot.
While the stage shown is using solid walls, you might opt to use see through walls instead, at least for the three lateral interior walls. It is important to consider what the difference between solid walls versus see through walls does to the shooting challenge aspect of any stage. If you can stand anywhere on the stage and see all the targets that is a very different challenge from not being able to see any targets but those in front of you. Of course, see-through walls are arguably safer, especially on the interior of a complex stage. And, see-through walls are more media and spectator friendly. As staff, we don't generally get to pick what type of walls we get on our stage as the choice has been made for us by the Match Director, Range Master and setup crew. But if you are working as the MD or RM, it's something to keep in mind.
I hope this series has helped you understand some of the complexities of a retrograde stage and, by gaining an understanding, removed some of the fear of working retrograde stages. As staff, we generally don't get to pick the stage we get assigned to work so having some foundational knowledge in your RO toolkit should help you handle these types of stages easily.
Have Questions?
If you have questions about this post, please ask via the blog Contact Form or send an email to rules@uspsa.org.