In a previous post, I explained that, while the position on the belt requirement (behind the point of the hips for Production, Single Stack, and Carry Optics) has been removed, the requirements in all divisions, yes, even Open and Limited, for the height to belt and distance from the belt have not changed. This is found in all the appendices, D1-D8, item #10. Here's the text of the previous article:
Position of holsters and magazine pouches has been relaxed. No more "behind the point of the hip" language for Production, Single Stack, and Carry Optics. The requirements for height-to-belt and distance-from-belt are still in place, per 5.2.5, 5.2.7.2, and D1-D8 #10, but you can move your holster and magazine pouches around now. This includes inside-the-waistband carry, and yes, even in the appendix position, and from concealment if you wish. It does NOT allow cross-draw carry—that's a 180 breaker almost every time. You still can't draw from concealment in Steel Challenge, however. E3 was left in the rules to demonstrate the definition of "hands relaxed at sides".
In addition, the restriction on tie-down rigs has not been removed. You may not wear a holster with a leg strap of any kind in USPSA competition. This is not the case for steel challenge or multigun, but in regular USPSA competition, thigh straps are not allowed. There seems to be considerable confusion over this simple point.
For reference, distance from belt: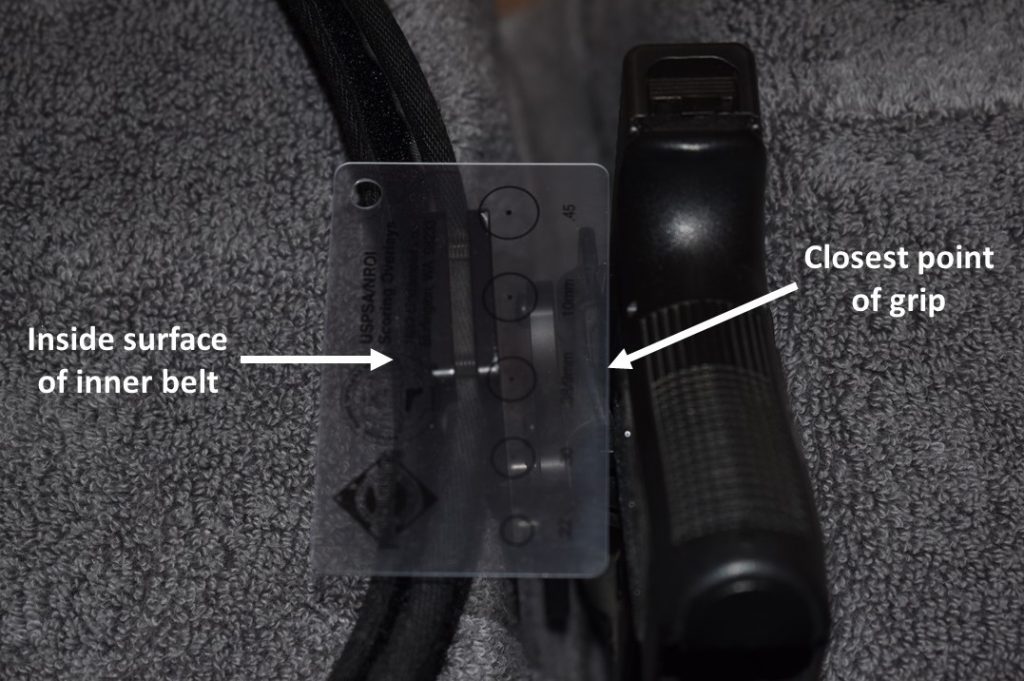 For reference, height to belt: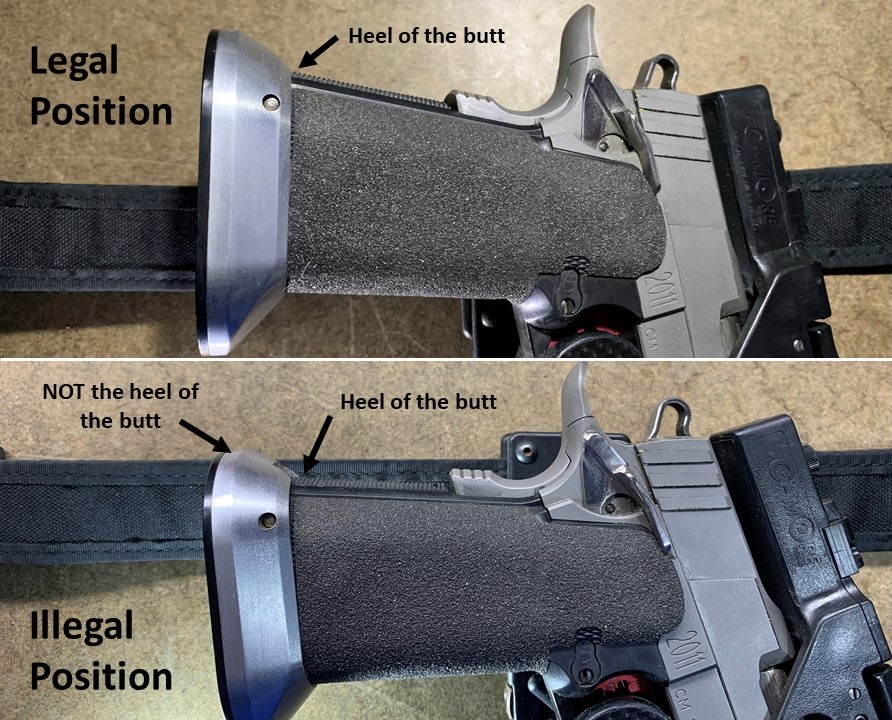 This is important: if you shoot a stage with your equipment too far from the belt, you will zero that stage. As for thigh straps or tie-down rigs, you should not be allowed to shoot any stage with the strap in place, nor with the heel of the butt below the top of the belt. See 5.2.5 inclusive, 5.2.7, 5.2.7.1, and 5.2.7.2.
Have Questions?
If you have questions about this post, please ask via the blog Contact Form or send an email to rules@uspsa.org.