Holsters, mag pouches, mags full of ammo, and pistols. That adds up to a lot of weight being supported by our belts during matches. But sometimes buckles break, belt webbing fails, or the Velcro between the inner and outer belts gets worn out and belts fail to stay put during a stage. This is a rare occurrence, but something we get asked about often enough to be a Question of the Month: The competitor's belt falls off while shooting the course of fire. What is your call as the RO?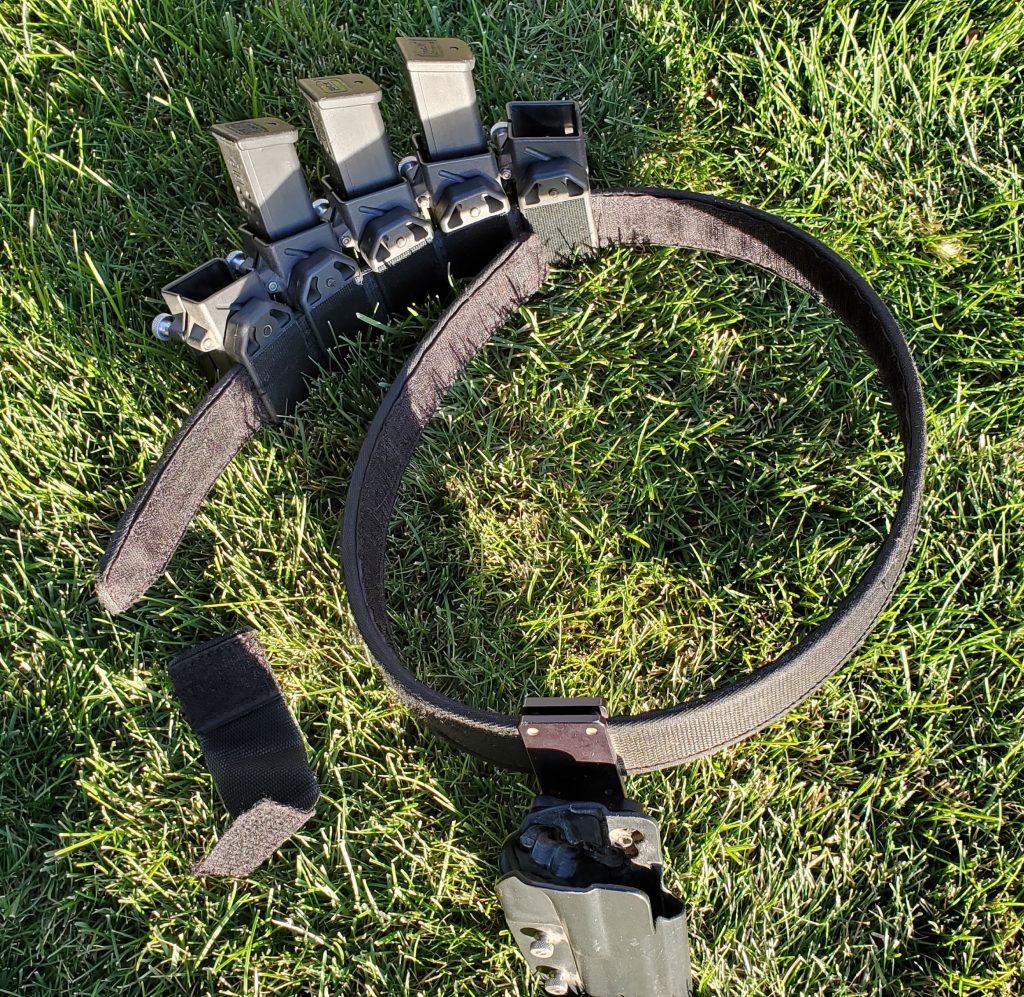 For this situation the correct answer of, "Do nothing and let the competitor finish," was the top answer with 65% of the votes. This is great to see. But why is that the answer? And what rule supports that?
Usually when I have been asked about this, well really told about how it was handled at a match and asked to confirm if it was handled correctly, the ROs stopped the competitor because they felt it was an unsafe situation and gave a reshoot. But is it really unsafe? Okay, there is a chance that the competitor may trip on their belt. But folks can also trip on fault lines, dropped mags, rocks, their own feet and plenty of other things on the course of fire. Do we stop competitors who have shoe laces that have become untied? No.
The only time that the rules talk about stopping competitors, outside of DQs, is for unsafe firearms or ammunition, loss of eye or ear protection, or RO/external interference. And none of those apply to this situation. And no, loss of their belt is not external interference. Belts are part of the competitor equipment which precludes belts from being an external interference.
What we have here is basically a failure of the competitor's equipment and it is treated like an issue with a firearm. They have to fix the problem on the clock, continue on, or can choose to stop themselves. Smart competitors will complete the course of fire, unload and show clear, and then retrieve their holster under RO supervision. Unwise competitors will stop themselves, thinking they get a reshoot, and will be very disappointed when no reshoot is granted and the stage is scored as shot. But ROs should never stop a competitor for losing their belt because there is no rule that supports it.
---
Addendum
With regard to rule 5.2.3 and this QOTM:
There is a difference in deliberately removing or not wearing your belt versus having a wardrobe malfunction during the course of fire. The "belt must be worn" language is there to prevent competitors from removing their belt when they deem it to be advantageous to do so, unless the WSB allows it. If a competitor were to attempt to shoot a course of fire without his belt, the RO must make him put it on, or not allow him to shoot the course if he refuses. Same thing if he deliberately takes it off during the stage–I could see a stop and score as shot scenario there, because it's a deliberate act.
An analogous example would be the case where the rules state that you must carry your magazines in a pouch or holder, or in a pocket, but they all fall out for some reason and you have to keep getting them off the ground. You started in compliance, but your equipment failed somehow and you have to deal with it. The range officer would not stop this competitor—he would be allowed to continue without penalty, unless he did something else to earn a penalty. Likewise, the RO would not allow a competitor to shoot a stage after he's placed magazines all around, and not on his person, unless the WSB states that staging magazines is allowed.
There is a difference in deliberate action and happenstance.
We still have to apply a little common sense.
Troy McManus, DNROI
---
Remember to cast your vote for the correct answer in the current Question of the Month on the blog homepage.
Have Questions?
If you have questions about this post, please ask via the blog Contact Form or send an email to rules@uspsa.org.