Sometimes scoring calls on target edges are hard to make, but what if a single shot leaves edge hits on two targets? How is that scored? Let's find out what the call was for the September Question of the Month.
This is from an actual match. The target array is two IPSC targets hung on the same pair of sticks. Slide cursor over picture to see it with and without an overlay.
How do you score this hit?
Okay, the member who sent this picture did tell us that the competitor had made a make-up shot and this hit was not actually scored, but he knew we would appreciate the picture for teaching purposes. So, how did you score it?
The majority did score it properly, an Delta on the top target and a Charlie on the bottom target. It is a Charlie on the bottom target because it touches both scoring zones and we always score the highest zone. So you all are probably wondering why such an easy question?
Well, Troy, Kevin and I all initially made the same call, but then looked at the picture a bit closer. Here is a view of how the targets were hung on the stand. Does this change your answer?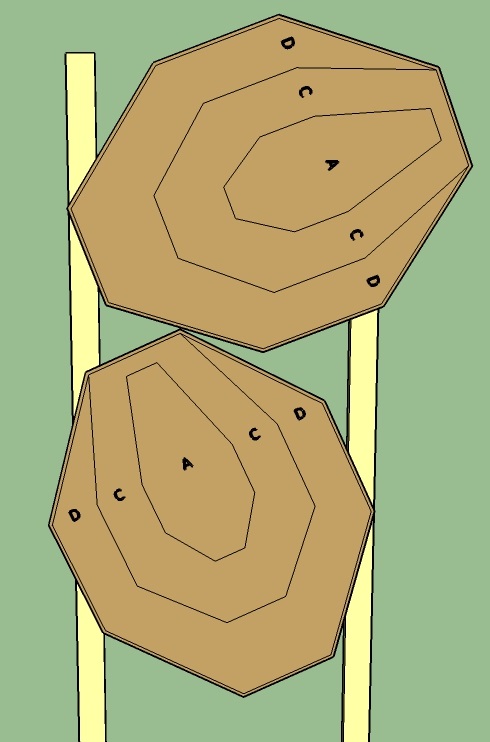 Let's take a look at 2.1.8.4: Scoring static IPSC cardboard targets must not be presented at an angle greater than approximately 45 degrees from the vertical. No-shoot static IPSC cardboard targets may be presented at any angle.
The top target in this static array is tipped greater than 45 degrees. That means it is an illegal IPSC target presentation and as a result an illegal stage.
What is the proper way to handle this while at a match? Notify the RM immediately and hope your squad is the first one of the day. The target will be fixed and any affected competitors will reshoot the stage. Or if it is discovered late in the match, then the correct thing to do is toss the stage.
Remember to vote in the current Question of the Month.
Have Questions?
If you have questions about this post, please ask via the blog Contact Form or send an email to rules@uspsa.org.