There are three colors of tape or pasters that need to be in stage buckets to ensure proper target restoration: brown, black, and white. And yes, it is important to restore targets with the proper color and to maintain hardcover lines. Why? To make the job of scoring targets easier for the range officers. Let's look at a hardcover hit for the February Question of the Month.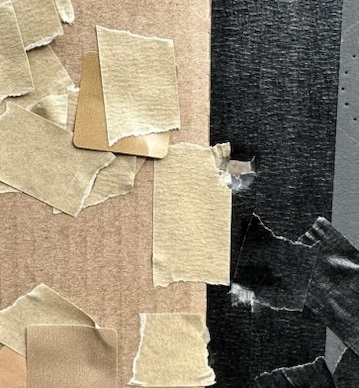 A-zone on left and hardcover that starts on the A/C-zone perforation on right.
This picture was sent to us by a member asking if the proper call was made. It is from a local match and it was scored as a miss. But, the competitor was disagreeing and said it was an improperly restored target and hits like this were REFs at a recent Area match. I don't know if the Area match part is true or not, but remember that mistakes do happen at major matches too and sometimes those calls are made for one reason, but by time the story gets around it is for something completely different.
This target was clearly restored so it is not an unrestored target. It was just poorly restored. Since we see black and brown tape elsewhere on the target, we know the appropriate tape colors were available. But care has not been taken to maintain the scoring target-hardcover line by using a piece of brown and a piece of black tape to restore hits that span the line. It really doesn't take that much more time to restore the target properly and attach some black tape or pasters to the back side of the target sticks so the appropriate color is always available.
But can that target still be properly scored? Yes! In this case, the RO can use one overlay as a straight edge to establish where the hardcover line is and another overlay on the hit and it was indeed a miss. But it would have been much easier to score if the black and brown tape had been applied properly. Take the extra time and restore targets with the proper tape/paster color and it will save time and debates about the score call at your match.
Have Questions?
If you have questions about this post, please ask via the blog Contact Form or send an email to rules@uspsa.org.