How well do you know the stage design rules? We decided to test that for the August Question of the Month with a stage sent to us from a local match. Let's see what everyone thought and if they were correct!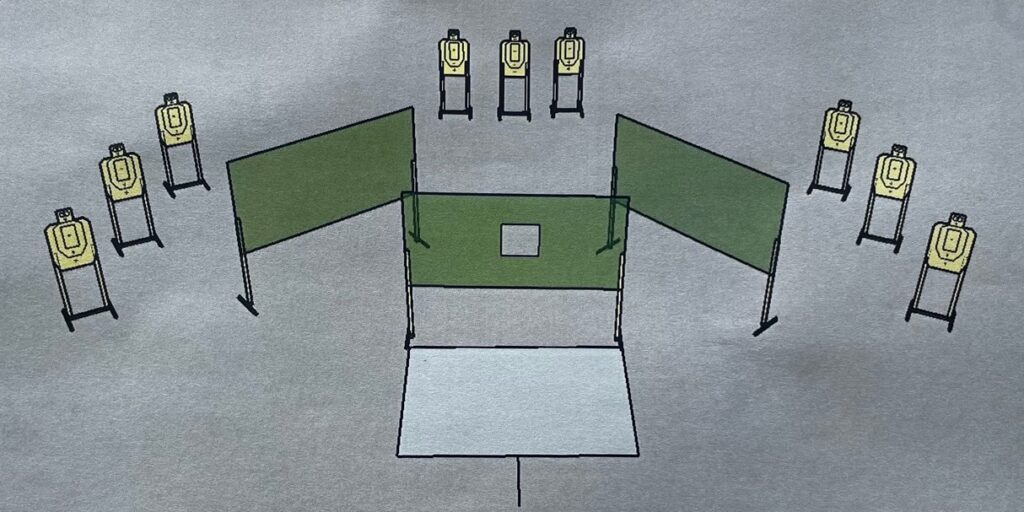 Stage Info: Virginia Count, 9 USPSA targets, 18 rounds
Start Position: Straddling start stick, handgun loaded and holstered.
Procedure: Upon audible start signal, engage each target with only 2 rounds from within the shooting area as follows: Left array with left hand only, center array freestyle, right array with right hand only. Arrays can be engaged in any order.
Is this stage legal?
The majority of you got it correct. This is not a legal stage. But why not? Let's look at the rules involved.
First we need to identify what kind of stage this is. The stage is 18 rounds which means that it falls into the definition of a medium course (see 1.2.1.2). And medium courses can now be scored Virginia Count (see 9.2.3.2). So the stage construction and the scoring method are perfectly fine. It's the stage procedure where the troubles start.
Yes, Level I (local) matches are allowed some exceptions to the freestyle rule, but those exceptions are limited to using shooting boxes and language in the stage procedure to limit where arrays can be engaged from and specifying mandatory reloads in short and medium courses (see 1.1.5.1), but there are no exceptions for strong hand only (SHO) or weak hand only (WHO). That is not covered in 1.1.5.1.
For medium courses and strong/weak hand only, there are two rules that apply. The first is 1.1.5.3 which allows for no more than the last 6 shots to be SHO or WHO. And 1.1.5.4 which discusses the use of props to force SHO or WHO. So the only legal ways to requires SHO or WHO in a medium course is either by stating in the stage procedure that the last 6 shots must be SHO or WHO, or by having prop that needs to be carried or a rope that needs pulled and held to force SHO or WHO shooting. If this stage had not specified which targets were to be engaged with SHO/WHO it would have been a perfectly legal stage.
Can't it be changed to another stage type and be legal with the SHO/WHO? Yes, it could be made into a Standard Exercise (1.2.2.1) if it was split into two strings. Why? Because Standards must be two or more strings and you can only specify SHO or WHO in a string. You can't do both SHO and WHO in one string. We had a Standards stage at the 2023 Area 1 Championship that was sort of similar to this stage, but legally had SHO and WHO in the stage. Lots of folks enjoyed it, especially since it wasn't the boring stand in this box and then that box type of Standard Exercise.
The stage design rules allow for a lot of options in your stage designs, but you sometimes need to think outside the shooting box to get stages that test different skills and are interesting to shoot. But always make sure the stage is legal! And if you ever need help determining that, feel free to send the stage to rules@uspsa.org. We are more than happy to help you out.
Remember to cast your vote in the current Question of the Month!
Have Questions?
If you have questions about this post, please ask via the blog Contact Form or send an email to rules@uspsa.org.