Before we dive too deep into this post, I want you to say with me, "Fixed Time is Virginia Count with a time limit." The only penalty unique to Fixed Time is the overtime shot, which we will discuss in a bit. The goal of this Question of the Month is to dispel some misunderstandings about how to score Fixed Time stages.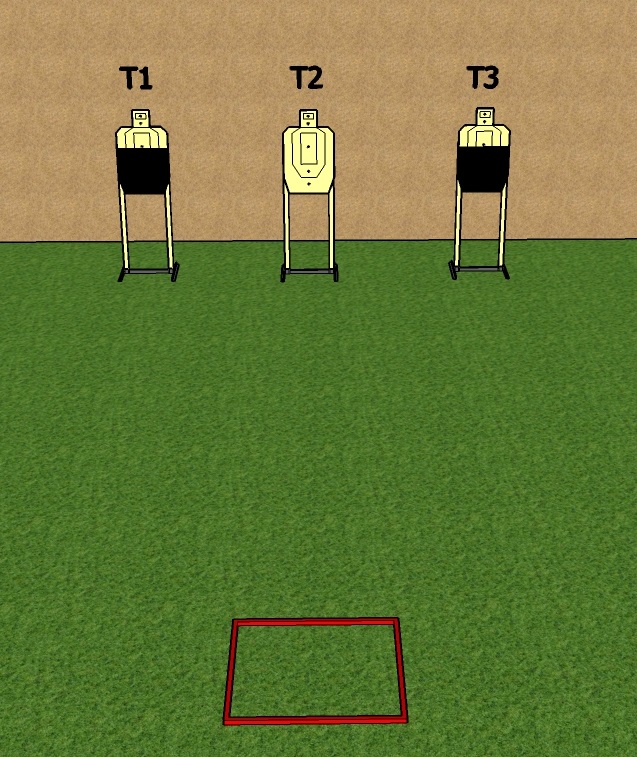 WSB: Scoring Headache is a 12 round, Fixed Time, Standard Exercise with three USPSA targets. The best four hits per target will score. All strings are 4 seconds. The start position is in shooting area, wrists above respective shoulders, handgun loaded and holstered. String 1 – Upon audible start signal, engage each target with only two shots, strong hand only, from within the shooting area. String 2 – Upon audible start signal, engage each target with only two shots, weak hand only, from within the shooting area.
What happened: For string 1, the competitor drew and shot twice at T2, then twice at T1 and once at T3, strong handed. All shots under 4 seconds. For string 2, the competitor drew and shot twice at T2 and then twice at T3, weak handed. The time for the last shot was 4.32. When you scored the targets, T1 had 1 Alpha, 1 hard cover hit; T2 had 2 Alpha, 2 Charlie; T3 had 1 hard cover hit.
What is the competitor's score and penalties?
The answer that got the most votes is also the correct answer, but why? Now, I could have made this question much more difficult by throwing in some of the usual Virginia Count penalties (extra shots, stacking, missing a mandatory reload), but I decided to keep it simple. Basically we are focusing on what you will usually encounter as a RO during a Fixed Time stage: not all the shots will be fired so there will be no-penalty misses, there might be some overtime shots, and the competitor may be more selective about which target(s) they shoot.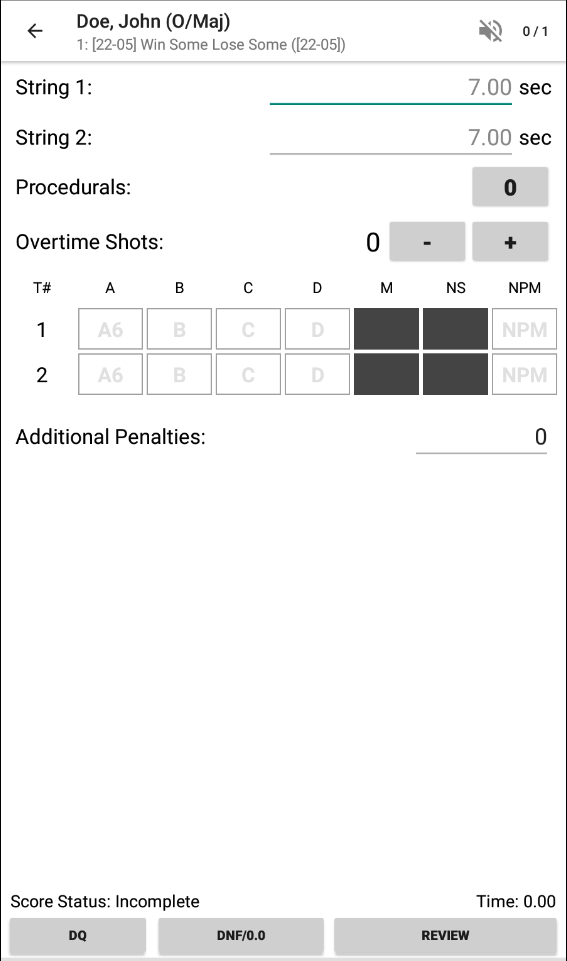 Let's talk about the no penalty misses first. Misses are always no penalty misses on Fixed Time stages and if you are entering scores into PractiScore and don't see the NPM column available, let the stats guru know immediately! For Fixed Time stages, the PractiScore screen is a bit different. You can't enter the time, there is an extra "Overtime Shots" line under the normal Procedurals, and the normal miss column is blacked out. Why are they NPM versus normal misses? It's because of the time limit which simulates turning/disappearing targets.
And why does the overtime shot penalty get a separate line from the other penalties and what is an overtime shot? The overtime shot penalty is only 5 points versus 10 points so it gets a separate line and it also makes it easy to find and enter penalties. An overtime shot is any shot that occurs more than 0.30 seconds over the set string time. So in this case, an overtime shot would be anything that happens after 7.30 seconds. If the last shot was at 7.30 seconds, it would not be a penalty. If the shot happened at 7.31 seconds, then it is a penalty. If there are multiple shots past 7.30 seconds, then multiple extra shot penalties are earned. Why 0.30 seconds over the set time? 0.30 seconds is the length of the timer beep. And how do we score an overtime shot if we don't know which hit on the target came from the overtime shot? It doesn't matter because when you score the target you always score the best 2 or 4 or 6 or whatever the WSB states. We have already penalized the overtime shot. One thing to note: if the targets do turn to appear and disappear, there are no overtime shot penalties, because the targets are no longer available to be engaged.
You may have noticed in this situation the competitor chose to engage the wide open middle target first and then tried to engage the remaining targets before time was up. This is common in Fixed Time because it is all about getting points. If you look at the Hit Factors for a Fixed Time stage, they are insanely high because it is straight points. Points are not divided by time as on Comstock and Virginia Count stages because the time is same for everyone. So when shooting a Fixed Time stage, it isn't about getting all the shots off. It's all about scoring points and not earning penalties.
Remember Fixed Time isn't a mystery, it's just Virginia Count with a time limit. Want to learn more about Virginia Count scoring, just search the blog and you will find some past Question of the Months that dealt with it. And don't forget to vote in current Question of the Month.
Have Questions?
If you have questions about this post, please ask via the blog Contact Form or send an email to rules@uspsa.org.