Despite the size of our rule book, there isn't a rule that specifically addresses every possible situation. I really don't think anyone actually would want a rule book that did that because becoming an RO would become a multi-year intensive law school type course. No thanks. In large part we depend on common sense to get through life and our sport is much the same; we are expected to utilize some common sense with stage designs, setup and even during competition. Alas, in the words of François-Marie Arouet, better known to most by his nom de plume, Voltaire, "Common sense is not so common."
This article will only concern itself with stage design and setup and not necessarily with the rest of the sport. That's a whole other article…or series of articles. Specifically, we will look at some cases where things aren't specifically against the rule book, but they kind of fly in the face of common sense. Often, as you will see, they are running afoul of the rules if you pay attention.
The first case we will deal with is steel location on a stage. Generally, when we talk about steel targets everyone just thinks about distance to the steel from the closest point they can be engaged. Maybe they think about splatter to cardboard targets that is going to make scoring "interesting" and minimum availability requirements. The rules are pretty clear about distance to steel but let's look at the situation depicted below. Lest you think this never happens or is rare, in reviewing stages for major matches we see this relatively frequently. All steel meets minimum distance requirements (it is at 27′) from the location it can be engaged from. See anything that might cause you go to "Uhh…wait a minute!"?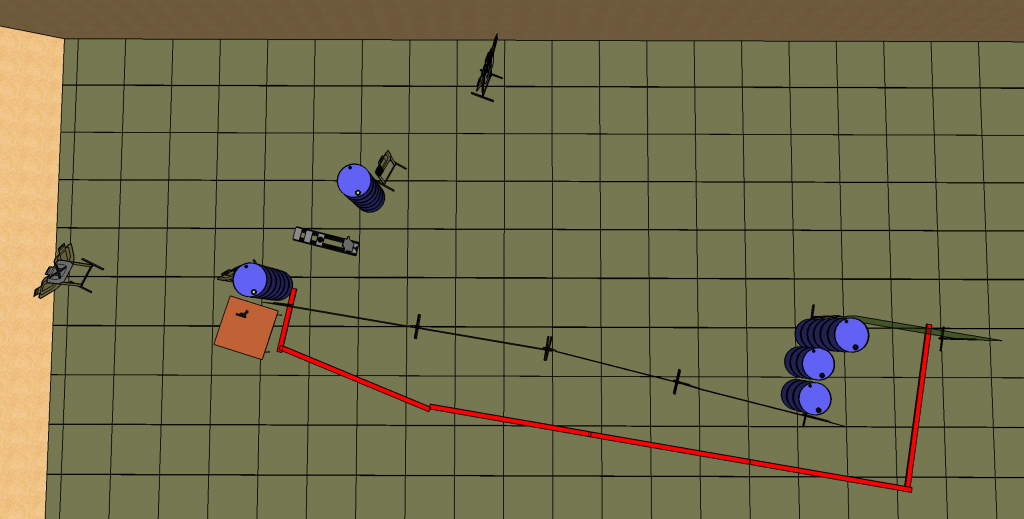 Is that steel in a safe location? Distance is correct so good to go? Not so fast there friends! Keep in mind where the back berm is…it's at the top of the overhead picture. So up range is at the bottom of the picture. Where is the splatter coming off that steel going? That snow fence wall going to stop very much of the splatter? Nope. Still want to stand up range and watch people shoot this stage? Yes, it's a legal position based on the distance rule but it fails the common sense test. Rule 2.1.1 implores us to build safe stages to prevent injury to others but it doesn't dive into all the specifics. And here is where common sense plays in. Stage designers are generally not thinking about where the spectators and squad members are going to be standing when designing stages. When this stage hits the ground, common sense "should" tell us to fix this issue. Either rotate the stage so the splatter is going into the berm or put up something to protect those up range. Rotating the stages changes the stage because now it is true retrograde vs. lateral movement. Putting up a barrier to catch splatter works but you need something that will survive for the whole match. I've seen 1/2″ plywood essentially shot in half by 400 shooters shooting a popper next to a wall.
Perhaps you are asking why we don't create an all inclusive list? Well, two reasons: Any "list" will not be absolutely exhaustive of all possible permutations that will cover every one of the infinite number of situations that can be created by thousands of active stage designers. Generally, the longer the given list is, the more people assume it is exhaustive. Thus, a lengthy list actually can create more issues than it solves. And second, we expect the application of common sense along with a healthy dose of experience and logic. In life, most of us learned early on that when we don't follow common sense we often get to pay the price and that can be expensive and/or painful. But we generally learn from those mistakes…hopefully.
A similar situation occurs with things that are not targets. Rule 2.1.3 discusses minimum distances. Most people read the part about distances to targets but fail to read on to that last sentence "Care should also be taken with respect to metal props in the line of fire." This doesn't just mean steel hard cover plates. It also includes steel parts of activating props, steel wall framing (yes, some clubs use steel wall frames) and so on. I learned the hard way about the steel splash guard that protects the pillow block bearings on most swingers. A swinging IPSC cardboard target was very low on a swinger that was only a couple yards away; I accidentally put a round into the splash guard and I caught some shrapnel for my efforts.
This does NOT mean we have to put all such things out at minimum distances. These issues can be easily overcome with a couple pieces of OSB or plywood, a few wraps 0f carpet, even old targets wrapped around and duck taped in place. Basically, you want something there that bullets will pass through but which is substantial enough to catch the fragments as they come off the steel. It takes a few minutes during setup but it can make for a safer match. Just be aware that these sorts of things can, and usually will, affect the timing of the prop. Thus, these modifications are best done prior to the start of the match to retain competitive equity. And you do need to check these throughout the match if they are seeing a lot of action to make sure they don't need to be refreshed.
And we need to never forget that our first job in our sport is safety. If it breaks the rules of safety then it is against our rules. Our very first rule under General Principles, 1.1.1 is about Safety. Never, ever compromise safety because "it will be more fun this way".
Now let's talk about unreasonable non-shooting challenges. Remember, our sport is a shooting sport and we test shooting challenges. See 1.1.6. We aren't testing one's ability to climb a rope to a raised platform, balance on a tiny beam that only a gymnast could love, squeeze through a small hole/tunnel/tube, pick up and carry some unreasonable weight, or fit into some contraption. Keep in mind that shooters in our sport come in all shapes, sizes, abilities and ages. Any physical challenge that might present problems for some competitors needs to have a ready made solution, preferably included in the original stage design, for those folks that just cannot do it. The staff for that stage and the Range Master(s) need to discuss, before the first round is fired, what penalty, if any is going to be applied to those that choose to take the alternate path. This can be a tricky thing to work out because it is possible that the alternate path might be the best way to a higher score. Conversely, you cannot really take someone out of competition entirely just because they are too short or too tall. Making a shorter shooter climb up on a platform, that no one else has to do, to shoot over a wall or out a port isn't providing an equitable challenge. Again, common sense rules the day.
Even cardboard targets can get us into common sense hot water. If you are working with lower berm heights, taller targets, targets far from the berm/closer to the shooter, or any variation on these things you may have some areas where some common sense needs to be applied. If you are six feet tall and walk through a stage and all the targets look fine with bullet impacts well down on the berms, great! Now, walk through that stage like a person a foot to 18 inches shorter. Bullets still impacting safely on the lower two-thirds of the berm? What about those shots through ports where a shorter person might choose to go for upper A zone because that's what they can see? Where are those rounds impacting? Same can be said for targets that are set very low. What's going to happen to those bullets hitting the range floor? Are they going to skip over the berm or skip down range and wreak havoc on props and targets? These are all pretty easy to fix, once you see the problem.
We likely could keep going but this should be enough to get you to thinking about this sort of stuff. Let's make common sense more common.
Have Questions?
If you have questions about this post, please ask via the blog Contact Form or send an email to rules@uspsa.org.