Our rules do allow for scoring and no-shoot cardboard targets to be cut, but there are some rules about the cut edge that need to be followed. Let's look at some examples and the rules which are involved.
First, let's look at the rules that cover non-scoring borders. See 4.2.2 and 4.2.2.1 which state that carboard scoring targets and no-shoots must have clearly marked non-scoring borders. The reason for the non-scoring border is to help range officials determine if that edge hit was sufficient enough to count for score or penalty. A glancing hit that does not touch the non-scoring border does not count. Now, we do not have the requirement for a non-scoring border on hard cover areas of targets. That is because hard cover is deemed to be impenetrable, and having a clean, clear edge of black hard cover painted on a cardboard target is important to help with scoring calls (if any part of the hit touches the brown scoring target it counts for a score). Black tape is usually used on the junction between the scoring cardboard target and the painted hard cover.
But what about cutting targets? See 4.2.4.2: "By physically cutting targets to remove the portion deemed to be hidden by hard cover. Such targets must be fitted with a replacement non-scoring border, which must extend the full width of the cut scoring area (see Rule 4.2.2)." And 4.2.4.3: "By painting or taping the portion of the target deemed to be hidden by hard cover a single and visibly contrasting color." In USPSA, we use black tape and paint to indicate hard cover. So how is this all applied? Let's look at this cut USPSA target on a swinger.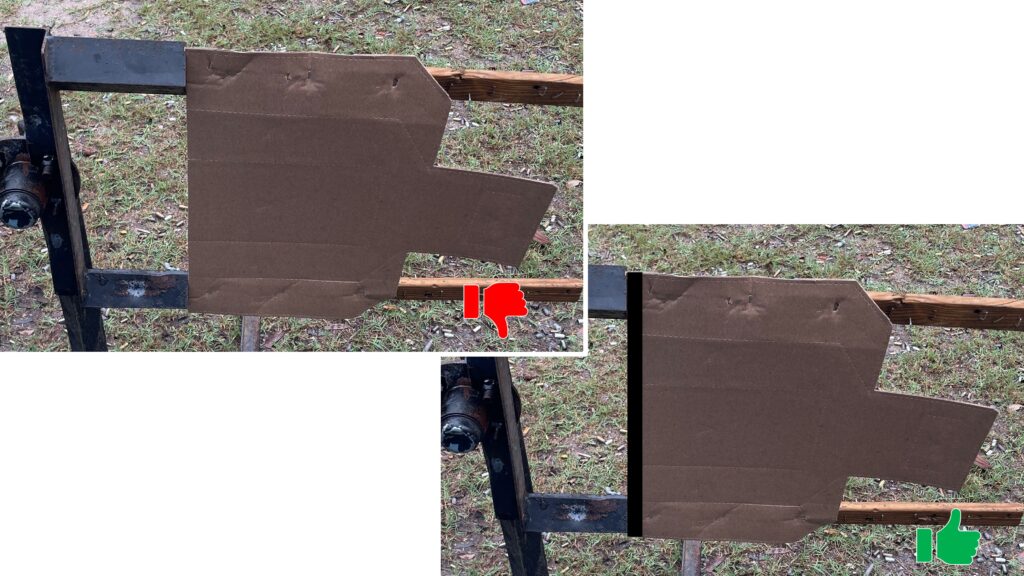 The cut target in the upper frame meets the minimum A-zone visibility requirements to be legal, but lacks a replacement non-scoring border on the cut edge. This makes it an illegal target. How to fix this? Either buy a perforation tool and carefully measure and add one. Or, go the easy route and just add a strip of black tape and make the edge hard-cover (lower frame). What about no-shoots? Can you cut those too?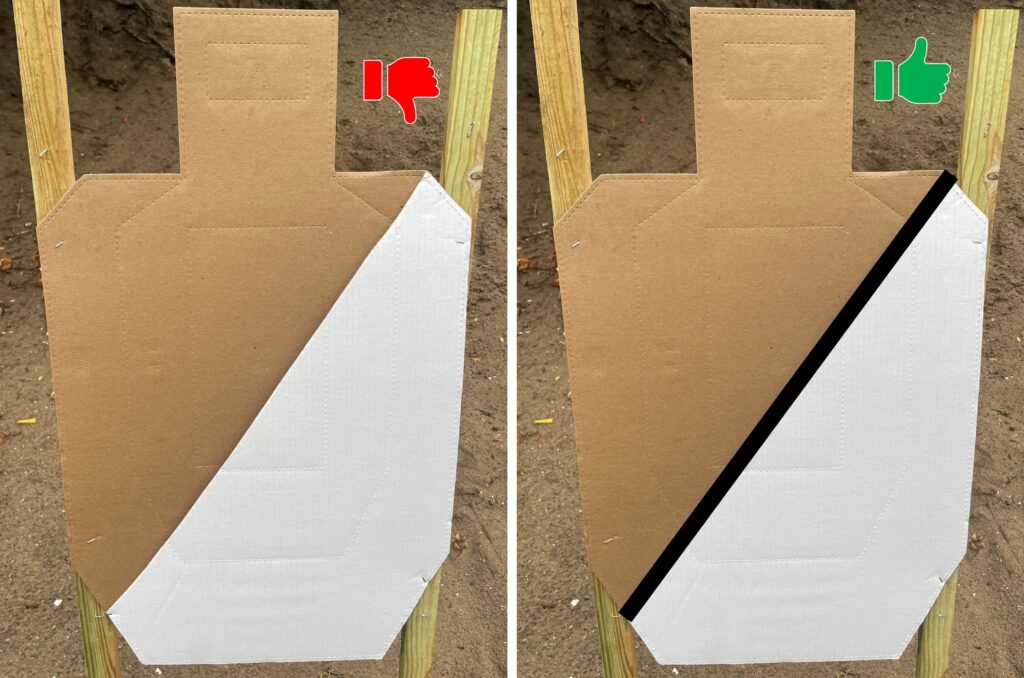 Yes, you can also cut no-shoots but 4.2.2.1 requires a replacement non-scoring border. Or, you can also add a strip of hard cover. And remember that 4.1.3 prohibits cutting a hole in a no-shoot target and placing a scoring target behind it and requiring competitors to fire through the hole in the no-shoot. If you want to take four individual no shoot targets and place the edge with non scoring borders around the A-zone of a scoring target, that is allowed. But no holes in a no-shoot that have to be shot through.
Cutting targets is just another way to create a shooting challenge, and save yourself time painting hard cover targets, as long as the rules are followed. Remember to add hard cover or a replacement non-scoring border perforation on the cut edge and make sure those scoring targets meet the minimum A-zone visibility requirements.
Have Questions?
If you have questions about this post, please ask via the blog Contact Form or send an email to rules@uspsa.org.