We have previously discussed the appropriate ready conditions for loaded firearms that start the stage on a table, but what about unloaded firearms and their placement. I recently worked a match where a stage required magazines to start on any of the barrels and the unloaded firearm to start on the table. It was a fun stage, but we had competitors earn a DQ before they even fired a shot on the stage. Can you guess why?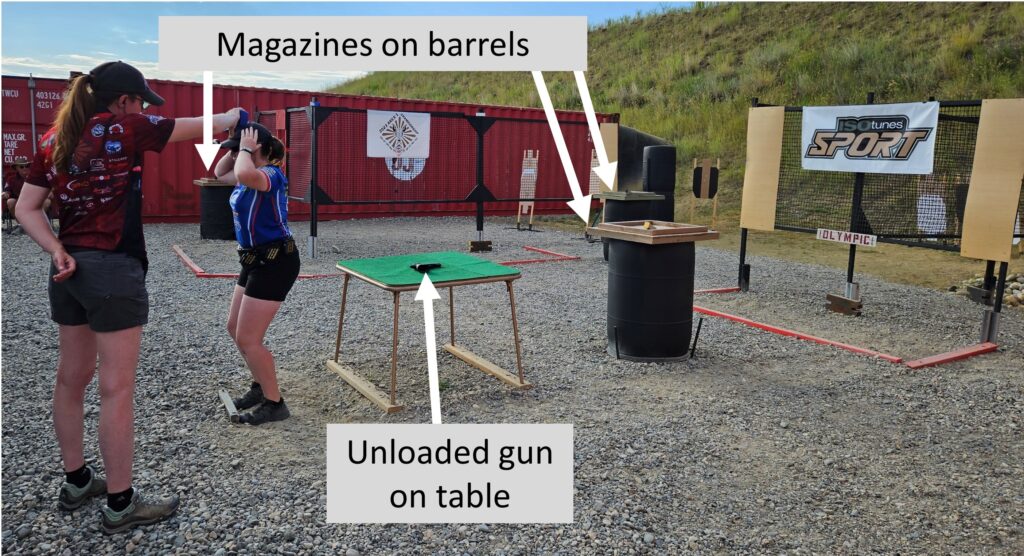 Here is a picture of the stage. There are three barrels with platforms for the magazines and the unloaded firearm was required to be centered on the X mark on the table and lie flat and unsupported. The competitor then started facing uprange with wrists above shoulders and toes touching stick. Simple enough, right?
This post is going to specifically address what a competitor should do on this type of stage because we had a few folks who had a major brain farts when shooting this stage. Since all magazines had to start on the barrels, the ROs asked the on-deck competitor to stage his/her mags while the stage was being reset. And the competitors did a great job of doing this. But as a competitor, once you place the magazines, you then STOP and wait for the RO before placing your firearm on the table.
Yes, we had quite a few DQs when the on-deck competitor staged mags and then, without receiving the "make ready" command, proceeded to place the unloaded firearm on the table. DO NOT draw your handgun, remove your chamber flag from a PCC, or lay a firearm on the table prior to the "make ready" command. Doing this is a DQ and a horrible way to leave a major match.
We had another table start in the match, but it was a loaded gun on the table and there were no DQs for placing a gun before "make ready" on that one. So, it was the combination of placing magazines on barrels along with the table start that confused folks on the stage in the picture. And I think some of the competitors also had a little major match nervousness going on too which probably clouded their judgement a hair.
So to recap, handling loaded magazines before "make ready" is perfectly fine. Drawing your handgun, unflagging your PCC , or laying any firearm down on a table before "make ready" is not okay and will earn you a DQ. Always listen for the magic words from the RO before handling your firearm!
Have Questions?
If you have questions about this post, please ask via the blog Contact Form or send an email to rules@uspsa.org.