Welcome back! In part I of this series we discussed some considerations for properly designing a retrograde, or "retreat", stage. In part II we talked about how to run a retrograde stage as an RO team. Now let's take a look at some example stages and discuss them from the stage design and RO standpoints. We will work through this as three separate posts.
First off, let's look at a fairly simple retrograde stage. This design is based off of my fading memories of a stage at the 2008 Back to Back Nationals in Tulsa, OK (aka MudBowl II). It is similar but not an exact representation of that stage.
This one has the benefit of being able to be run both in retrograde and anterograde simply by moving the start position. If you look at this stage and consider how you might shoot it, you can see that the target engagement position choices you might make are very different running it anterograde versus retrograde save the position at the door.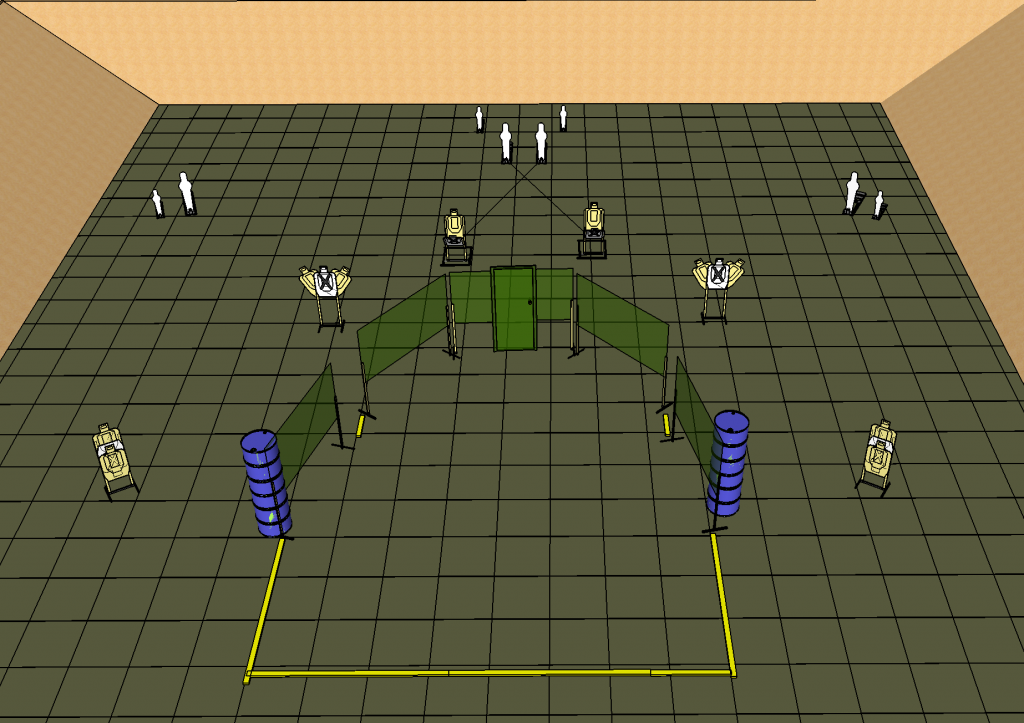 If you use a start position at the down range door then it is a retrograde stage. Use a start position on the rear fault line and it is an anterograde stage. And so on.
As a anterograde stage, there isn't much different here in terms of RO'ing the stage than we would find anywhere else. Right-handed shooters that will need to reload will go left and work to the right so reloads are more easily done safely. Left-handed shooters will likely go right and move to the left for the same reason. So, other than not crowding the shooter and being present to catch the last shot, not much to discuss.
As a retrograde stage things get more interesting. Let's say the start position is at the door, handgun is loaded and holstered, wrists below belt. PCC is loaded and barrel is held on a mark below the door knob (not shown). Notice that there is a lot for the shooter to do through the doorway. There are eight shots required here with four quick shots to try and beat the Max-traps and two more carefully aimed shots at the mini-poppers out at around 11 yards. One or both of the Max-traps could be activated by the door but in this example they are activated by the poppers. This buys the RO a lot of time to get up range. I'd recommend retreating directly rearward at least to a position equal to the end of the walls. Stay in position to watch the gun and control the shooter with your voice. You can move laterally as necessary as the shooter moves to the openings on either side. Again, right-handed shooters are likely to go to the right side and move to the left, and left-handers will go left and move right. Be ready to move further up range as the shooter transitions to the final position on each side. There are some choices here and over the course of a match it is likely that someone will try just about every one of them…even if they don't make a lot of sense to you. Be prepared to move with them and all will be fine.
So, what about the assistant RO/Scorekeeper? The best thing for them is to either hang out on the rear fault line or possibly come forward to the wall section on the appropriate side. There is no reason at all for them to go all the way forward where they may well get in the way. They can observe shooter movement and target engagement from an up range vantage point and it is one less person to get surprised by a shooter moving in an unexpected way.
If you look at this stage and imagine trying to stay tight with the shooter from the door start position onward it is easy to see how you could get hung up and end up fouling the shooter or end up down range of the shooter. Neither is a good thing and both can raise the blood pressure more than is necessary. It is important to remember that you can control the shooter with your voice. It is generally not a good idea to try and physically control the shooter anyway and most of us have enough volume in our voices that we can be heard through hearing protection.
Physically distancing ourselves from the shooter should not lead to being distracted. It is still vital that the timer RO retain focus on the gun and the assistant RO retain that wider view on target engagement, watching for foot faults, and other penalty situations. Remember, it is the assistant RO on the shooter's weak side who will be in the best position to watch for finger in the trigger guard violations.
Next up in Part IIIb we will look at a U-Turn type stage.
Have Questions?
If you have questions about this post, please ask via the blog Contact Form or send an email to rules@uspsa.org.