Last spring, USPSA launched the new NROI Work Record function on the USPSA website. The NROI Work Record is accessed through the member Profile or Classification Record pages. In the past, only Range Masters had to log major match work to maintain certification, but now all certified Range Officials can log their work at Level II and above matches.
Why should I log my work? Not only is it a great way for you to keep track of which major matches you have worked and what you did, but it also allows Match Directors and Range Masters who are considering you as staff to see your "NROI resume". Many major match applications ask for prior work experience, and if you enter the information on the USPSA website, then it is all there for your use when filling out the staff applications.
Adding work to your NROI Work Record is easy. Just login to your USPSA account and on your Profile or Classification Record, right below your RO Certification information, is a link to the NROI Work Record.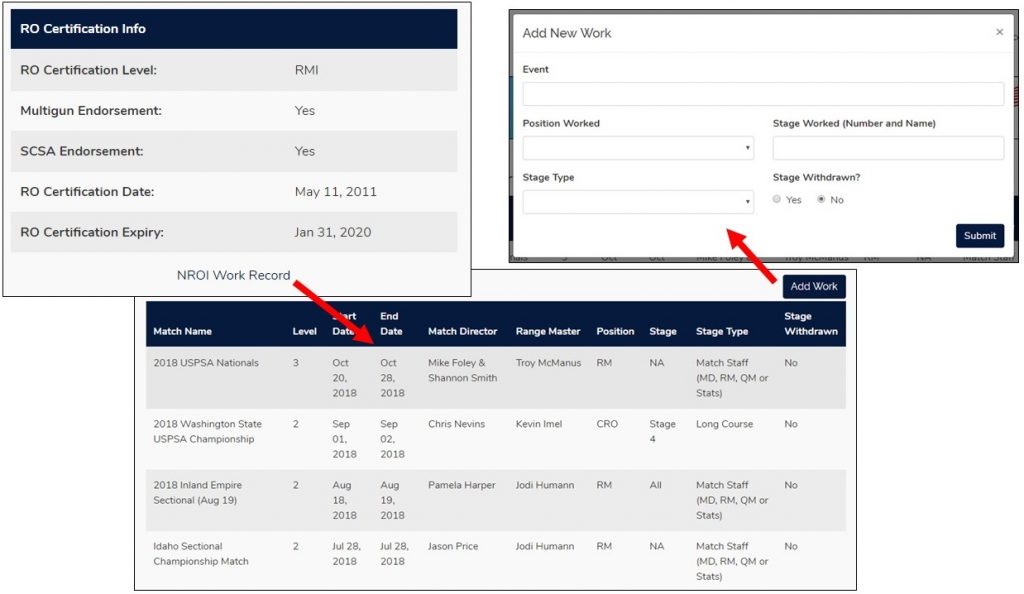 A table is displayed with any current work records. In the upper right of that table, is a button to "Add Work". Clicking that button opens a fill-able form. Start by typing the match name. As you type, possible matches are displayed. The match names are pulled from the major match database on the USPSA website. Select the appropriate match and then fill in rest of the information and click "Submit".
Have Questions?
If you have questions about this post, please ask via the blog Contact Form or send an email to rules@uspsa.org.