Okay, this really isn't a question. We always need to have a Written Stage Briefing (WSB) for each stage at a match. But I have noticed that there is some confusion about what a WSB is and what information is in the WSB.
The WSB must contain the following information per rule 3.2.1:
Scoring method
Targets (type & number)
Minimum number of rounds
Firearm ready condition
Start position
Time start (audible or visual)
Procedure
Seems simple, right? But there is actually an art to writing a proper WSB. A WSB needs to be clear and concise and provide all the necessary information, and most importantly be the same for every squad–which is why it's a Written Stage Briefing.
There are many matches that use what I like to call the Stage Information Sheet (SIS) as the WSB. This sheet is also used as a stage setup diagram or is put in the matchbook. And yes, it has all the required information per 3.2.1, but if you hand that sheet to three different people, they will each read it differently and provide varying levels of detail.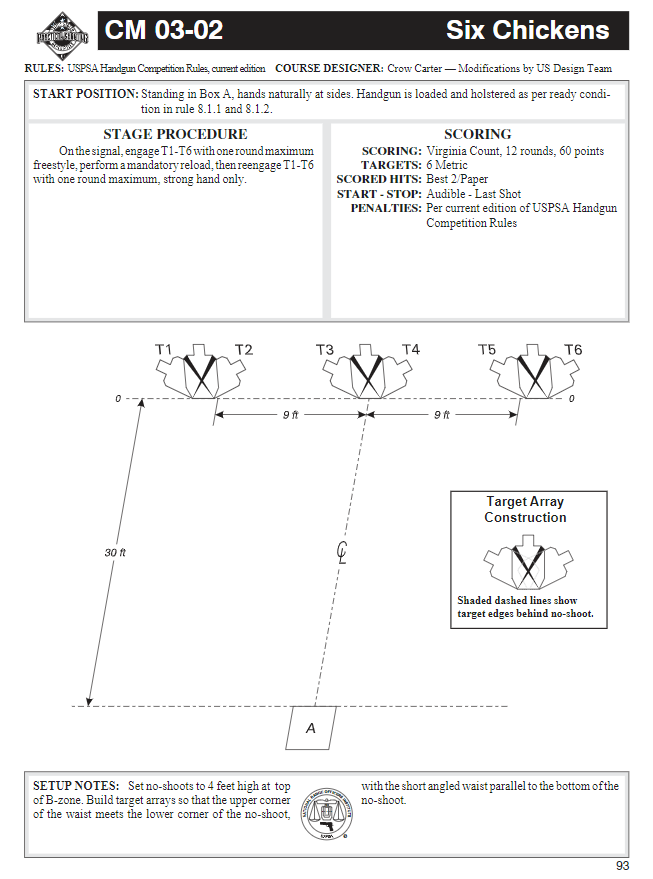 Until a few years ago, we only had a SIS for each Classifier stage. And since everyone models things after the Classifier diagrams, this was/is considered the WSB at a lot of matches. However, there also was a lot of variation in how the stage procedures and start positions were being conveyed to the competitors, and when PCC was added as a division there were no PCC start positions on the Classifier SISs.
As a result, formal WSBs were written for each Classifier. The WSB is the only place that the PCC start position is found for a majority of the Classifiers, so it is very important to print and use the WSB at your matches and this is for all Levels of USPSA matches.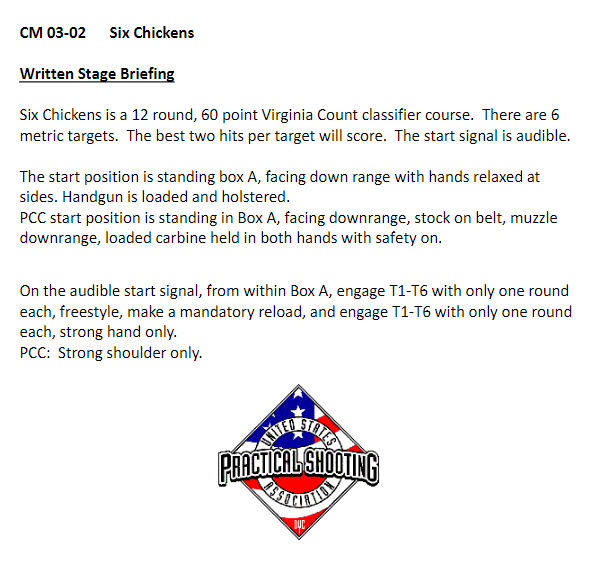 A WSB is written to be read verbatim from start to finish to each squad at the match. That way each squad gets the exact same information each time. Notice that rule numbers have been removed, competitors don't want to hear those and we all know that the match is using the most recent version of the USPSA rulebook and penalties will be per the rules.
Scoring method, target type and number, and minimum number of rounds, and firearm ready condition, time start, and procedure are straight forward and easy to add to a WSB. But, I often see confusion about the start position. This is especially true since the January 2019 Rulebook was released. In the newest version of the rulebook, the default start position for handgun was removed. You now have to specify in the WSB a start position (hands, feet, inside/outside shooting area) for handgun and PCC.
Since the rule change, I have seen many WSBs that specify where the handgun competitors are standing and where their feet are, but the hand position is missing. If you don't specify a handgun start position, savvy competitors who know the rules can have their hands hovering right above the grip of their pistol. This is now legal, providing they are not touching their handgun or magazine/speed loader, but it usually takes stage designers and MDs by surprise because that is not what they intended.
If a competitor drives a truck through a WSB with a poorly described start position, don't get upset, use it as a lesson for next time. Start positions can be very specific, or allow competitors to have more freedom. If you say "hands on X marks", then let the competitor look and place their feet where they want. Or if you want a more specific start position, use "standing inside shooting area, with heels on X marks, facing downrange and hands relaxed at sides". Just note that the definition of facing downrange (see App. A3) is now less restrictive than it was previously.
Practice is the key to writing specific, yet concise, WSBs. And remember, that WSBs are for all Level USPSA matches. Get a template made for your local matches and start practicing. And don't be afraid to vary start positions for both handgun and PCC.
Have Questions?
If you have questions about this post, please ask via the blog Contact Form or send an email to rules@uspsa.org.