USPSA uses an online Form C for major matches. Any Level II or higher match needs to have a Form C submitted and submit the stage designs for approval. Level II matches need the stages approved one month before the match and Level III matches need stage approval two months before the match.
The Form C is usually filled out by the match director or club contact and contains all the basic match information such as dates, location, number of stages, entry fee, host club, round count, registration link and names of the match director and range master. This form can be filled out months ahead of time and once the form has been reviewed by the DNROI, the match is listed as 'pending approval' and will show up on the major match listing on the USPSA site. And the match will also be listed in the the USPSA magazine in the Major Match Calendar section.
USPSA now allows for stage designs to be added to the existing Form C, and when the stages are submitted a notification is sent to the DNROI and ADNROIs saying that the stages are ready for review. You can find the 'Add Stage Designs to Form C' link under the 'Club Resources' menu, in the 'Tools' section.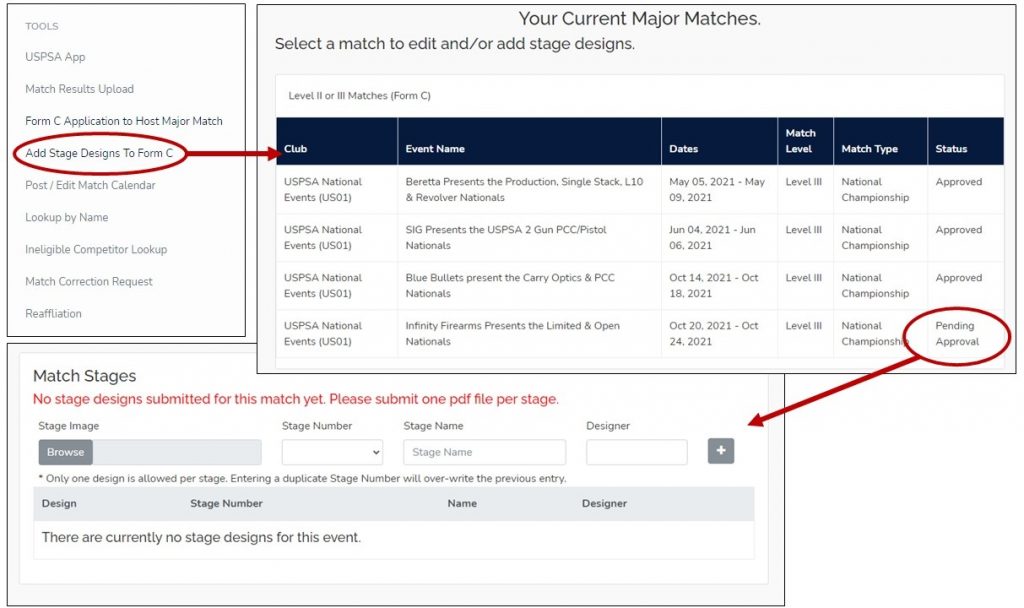 When the link is clicked, it will display a table of all the major matches that are associated with the club. Click on the match that is pending approval to open the Form C. At the bottom of the Form C is a place to upload the stage designs. Each stage needs to be in a separate PDF file. Once all the stages are uploaded, submit the stages to NROI for review.
NROI will review the stages and be in contact with the MD and RM if changes need to be made. After stage approval, the match status will change to 'approved' on the match listing.
Have Questions?
If you have questions about this post, please ask via the blog Contact Form or send an email to rules@uspsa.org.